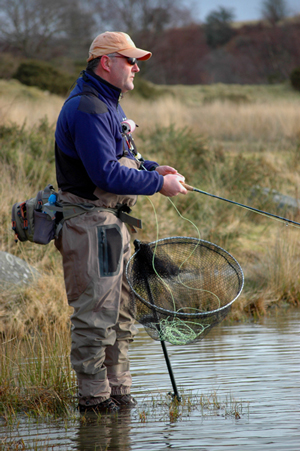 "Bank fishing can be challenging whether you are fishing on small still waters when the line catches on snags on the ground or you are wading and your line tray ends up in the water and the line tangles up just as the line is flying out.
Due to the above problems some 2 years ago I set out working with Fastnet to solve these and give the bank angler the ultimate net that would enhance the fishing experience.

This net will act as a line tray at whatever height you need as the extending leg will lock in any position. It will keep your line tangle free due to the size of the mesh used and make sure every cast will reach its full potential, and flips over to a landing net one handed so this can be done while playing a fish.

Now when I go bank fishing this is the first piece of equipment I pack".
Hywel Morgan