Fastnet Landing Nets - Net Bag Replacement
New Style Knuckle Design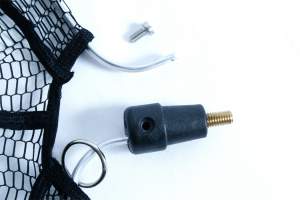 Remove the screw from the knuckle using a flat tip screwdriver.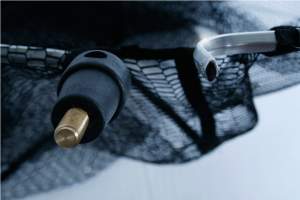 Pull out the right hand rim end from the knuckle and mark the base of the rim end with a black marker (this may have been done for you during manufacture).
Once you have fed the net bag onto the rim and replaced the ring in the same position you must insert the rim end with the black mark into the right hand knuckle hole.
Before you insert the screw you must ensure that the rim is fully inserted into the knuckle and you see a continuous 'thread' for the screw to follow.

Old Style Knuckle Design
Hold the knuckle over steam for five minutes to soften the rubber adhesive.
Then, using heat protected gloves, hold the shaft in one hand and pull the rim out of the moulded knuckle.
Remove the net bag from the rim and clean all residue adhesive off the rim using

Scotch Brite

TM

Using something long, thin and relatively sharp remove any excess adhesive from inside the knuckle.
Feed the new net bag on to the rim. Please remember that Gye net bag replacement requires the removal of the ring from the top rim position and replacement of ring half way through fitting the new net bag.
Tip - Find the half way position on your new net bag. Loop a piece of material through the mesh and secure. When you come to this piece of material pop the rim through the net bag mesh, feed the ring onto the rim, pop the rim back through the net bag mesh and continue. All other product rings can be replaced in their usual position once the net bag has been fully fitted on to the rim. Please note that you may have to bend your rim slightly into itself to get the net bag round the rim fully.
Insert a generous quantity of rubber adhesive into the moulded knuckle. We would recommend the following products:



Unibond Repair Extreme Power Glue

TM




Evo-Stick Serious Glue Fix & Repair Adhesive

TM


Insert the rim into the moulded knuckle and remove any excess adhesive with a soft cloth. Refer to the setting instructions.
Postage prices for this product (per item)
For non-EU countries listed below the postage charge excludes any duties and taxes that may be charged on receipt of goods. If your country does not appear please email info@fastnetdevelop.co.uk for a quotation.
£3.50
£3.95
£5.95
£9.95

England

Scotland

Wales

Austria

Belgium

Bulgaria

Channel Islands

Denmark

Estonia

Finland

France

Germany

Greece

Hungary

Italy

Latvia

Luxembourg

Netherlands

Poland

Portugal

Republic of Ireland

Romania

Slovakia

Slovenia

Spain

Sweden

Australia

Canada

Croatia

Czech Republic

Iceland

Norway

Switzerland

USA

Northern Ireland